Arborline manufactures a range of soil sampling equipment for varying needs. Listed on this page is information on the three types of sampler available. All equipment is currently sold via phone or email (online shop coming soon).
For orders: Phone: 03 5572 4018      Email: admin@arborline.com.au
The current equipment price list is available for download here:
We have manufactured a range of soil sampling equipment over the last 20 years. Please enquire if you have a specialised need or require advice on equipment.
Arborline Soil Sampler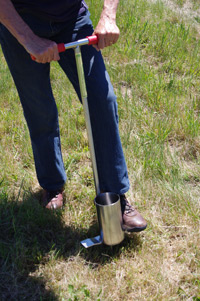 For fast and accurate collection of samples for analysis
Made entirely of hard-wearing stainless steel with screw-in removable tips
The standard soil sampler is sold with one tip (100 mm length, 25 mm diameter) and a spanner
The soil sampler kit is sold with three tips and a spanner in a storage pouch (100 mm length; 22, 25 and 32 mm diameter)
Tips are available in three different diameters to allow easier use in varying soil types: 22, 25 and 32 mm diameter
Other standard lengths are available: 75, 100, 150 and 200 mm
Upgrade offer for those with green painted soil sampler with "three screw" tips: when a kit of three tips with spanner is purchased, if the sampler is returned it will be upgraded to take the new screw-in tips free of charge
Tip advice: 100 mm is the length used for collection of standard soil samples
Arborline Drill / Auger Sampler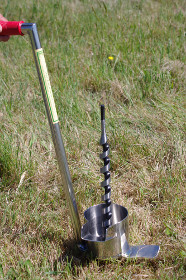 Combined sample to 700mm deep
24mm auger supplied – designed to use with a cordless drill
Collect sample into catching chamber
Arborline Deep Core Open Sided Soil Sampler
Removable extraction pin and separate striker cap
16mm core, 27mm tube with 2.4mm wall and 1m long